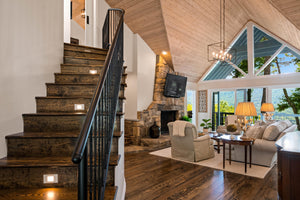 Your Home Style
Whether you're looking for a couch, coffee table, Lighting or just a curio cabinet to finish off your family room, we have all the living room sofa and lighting you need to decorate your home or apartment.

We carry everything from single end tables to entire living room furniture sets of a loveseat, sofa, ottoman, lighting and recliner. That means you can either redecorate an entire room or find that last piece to tie the whole room together. And, of course, all our living room furniture---sofas, ottomans, recliners, and more---is available in a wide array of colors, styles, and fabrics.

You spend a lot of time off from work in your home, so the furniture there should be as inviting as anything you own. That way, whether you're relaxing with friends or just sitting down to watch a little TV, you'll be doing it in style and comfort.
Here are just a few ways to make your living room setup come alive:
Material choice in case goods.
Wood is the classic choice for items such as tables and stands, but did you know that metal, marble and concrete are also options? Veering away from the more traditional material into unique textures will allow your pieces to stand out. Consider mixing up the materials, too; concrete with wood and marble creates a space that focuses on the organic grains, colors and feel of each piece.
Balance it out.
Two sofas facing each other, with a coffee table in between, creates a balanced aesthetic. (Human psychology favors balance. Two of one thing, placed equally and oppositely, feels satisfying!) If you don't do it through sofas, try the feng shui principle of balance through smaller items: two vases on either end of a table, two planters on either end of an entertainment center, and so on.
Make the seating more comfortable.
While a sofa doesn't necessarily need a side table, incorporating one makes the lounging so much more comfortable! Having a surface to place your drinks and reach for your phone completes the relaxation experience. Not to mention, a wood or metallic table against an upholstered seat creates a gorgeous stylish appeal!
Go with unusual designs.
Sofas and tables are run of the mill. What's not are leaning wall shelves, frog statues and motorcycle bar carts. Incorporate the unusual for bigger personality.
Pops of color.
Throw a blue blanket over a grey couch! Place a red vase on a brown coffee table! Adorn a white TV stand with planters of green leaves! Color breathes life. Use it everywhere you can.
Editorial Disclaimer: Articles featuring tips and advice are intended for educational purposes and only as general recommendations. Always practice personal discretion when using and caring for furniture, decor and related items.